The centre pivot pine window is the most common of the Duratech range. Available in numerous sizes this centre pivot window is the perfect daylight solution.
With sleek Scandinavian pine frames it allows maximum daylight and like other Duratech windows the DPX sits recessed into the roof giving a smoother, flush effect.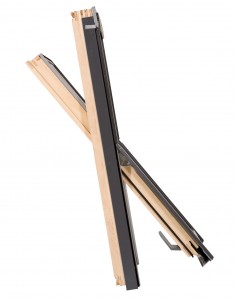 Centre Pivoting with an elegant handle positioned at the bottom of the window.
Scandinavian Pine frames are treated with insecticide and fungicide for maximum protection.
Double glazed units are filled with argon gas to maximize u-values and noise reduction.
MEASURMENTS
| CODE | NOMINAL SIZE | VISIBLE GLASS | EFFECTIVE LIGHT AREA |
| --- | --- | --- | --- |
| DPXC2A | 55 x 78 cm | 37.3 x59 cm | 0.22 m2 |
| DPXC4A | 55 x 98 cm | 37.3 x79 cm | 0.295 m2 |
| DPXF6A | 66 x 118 cm | 48.3 x99 cm | 0.478 m2 |
| DPXM4A | 78 x 98 cm | 60.3 x79 cm | 0.476 m2 |
| DPXM6A | 78 x 118 cm | 60.3 x99 cm | 0.597 m2 |
| DPXM8A | 78 x 140 cm | 60.3 x121 cm | 0.729 m2 |
| DPXS6A | 114 x 118 cm | 96.3 x99 cm | 0.953 m2 |
Technical Information

Suitable for roof pitches 15 to 90 degrees

Scandinavian Pine Centre Pivoted

Toughened outer pane

24mm double glazing, filled with argon gas

Thermal Transmittance

Plain Tile flashing available singly or in combination

Slate flashings available singly or in combination

Tile flashings available singly or in combination

Universal flashing available singly or in combination