The White uPVC Duratech windows boast a tough, durable plastic frame white a steel centre core for extra strength. Aesthetically pleasing, these strong plastic roof windows work brilliantly in any room, but are a firm favourite in kitchens and bathrooms. The wipe clean polyurethane coating is the perfect option when it comes to humidity or condensation problems; any smoke or dust is also easily cleaned which means the range requires little or no maintenance. Like all Duratech windows the APX range comes with a free 10 year manufacturer guarantee, leaving you rest assured that you'll have nothing to worry about once installed.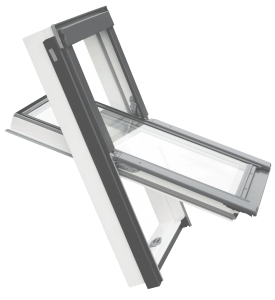 Centre Pivoting with an elegant handle positioned at the bottom of the window.
White Upvc frames combined with a strong steel centre core.
Double glazed units are filled with argon gas to maximize u-values and noise reduction.
MEASURMENTS
| CODE | NOMINAL SIZE | VISIBLE GLASS | EFFECTIVE LIGHT AREA |
| --- | --- | --- | --- |
| APXC2A | 55×78 cm | 37.3 x 59 cm | 0.22 m2 |
| APXC4A | 55×98 cm | 37.3 x 79 cm | 0.295 m2 |
| APXM4A | 78×98 cm | 60.3 x 79 cm | 0.476 m2 |
| APXM6A | 78×118 cm | 60.3 x 99 cm | 0.597 m2 |
| APXM8A | 78×140 cm | 60.3 x 121 cm | 0.729 m2 |
| APXS6A | 114×118 cm | 96.3 x 99 cm | 0.953 m2 |
Technical Information

Suitable for roof pitches 15 to 90 degrees

white Upvc frame Centre Pivoted vented

Toughened outer pane

24mm double glazing, filled with argon gas

Thermal Transmittance

Plain Tile flashing available singly or in combination

Slate flashings available singly or in combination

Tile flashings available singly or in combination

Universal flashing available singly or in combination