The Duratech Top Hung roof window is available in two large sizes and can be used as a means of escape or for restricted internal space applications. The window pivots at a three quarter position and is operated with the help of two gas springs and an opening handle which allows the sash to smoothly open and offers exceptional uninhibited views. With its sleek Scandinavian Pine frame it is compliant with current means of escape window regulations and to make it child safe safety locks are also available. This window also has the added benefit of a simple click open and shut trickle vent positioned at the top of the frame, once opened the inset mesh will allow fresh, clean air into the room while the window may remain safely and securely shut.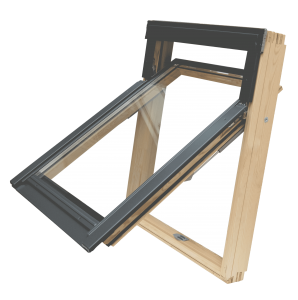 Three quarter pivoting with gas springs and an elegant handle positioned at the bottom of the window.
Scandinavian Pine frames are treated with insecticide and fungicide for maximum protection.
Double glazed units are filled with argon gas to maximize u-values and noise reduction.
MEASURMENTS
| CODE | NOMINAL SIZE | VISIBLE GLASS | EFFECTIVE LIGHT AREA |
| --- | --- | --- | --- |
| MOEVXM4A | 78 x 98 cm | 60.3 x 79 cm | 0.476 m2 |
| MOEVXM8A | 78 x 140 cm | 60.3 x 121 cm | 0.729 m2 |
Technical Information

Suitable for roof pitches 15 to 90 degrees

Scandinavian Pine Three Quarter pivot vented with gas springs

Toughened outer pane

24mm double glazing, filled with argon gas

Thermal Transmittance

Plain Tile flashing available singly or in combination

Slate flashings available singly or in combination

Tile flashings available singly or in combination

Universal flashing available singly or in combination